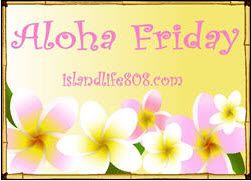 In Hawaii, Aloha Friday is the day that they take it easy and look forward to the weekend. So Kailani thought that on Fridays she would take it easy on posting, too. Therefore, she asks a simple question for us to answer. Nothing that requires a lengthy response.
If you'd like to participate, just post your own question on your blog and leave your link over at
IslandLife
. Don't forget to visit the other participants! It's a great way to make new bloggy friends!
My question is:


Have you ever gotten a pedicure, and if so do you recommend it?

I haven't ever had one, but I think I would certainly enjoy one. Oh, and a massage too!