I talked with Lexi's mom today. She actually was on her way to the hospital for the evening, she started back to work today. Lexi's grandmother was staying with her today at the hospital so Mommy could go and work, Daddy went back to work on Monday. Lexi is on her third day of Chemo and is doing pretty good. She has gotten sick two times and now doesn't want to eat anything much. I guess today she did eat a few black cherries so I would have to say that is better than nothing.
If everything goes as planned and she is eating okay, then she will be released to come home on Saturday,until her next bout of Chemo 21 days later. Her mom said that there is a lot of training that she has to go through before that will happen, so Friday she will be busy learning medical stuff. I don't think she is too thrilled about having to give Lexi a shot everyday. I am sure that she will get used to though.
Please keep on praying for her.
Thanks for everyone that has already sent prayers her way.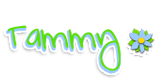 Please remember to enter my giveaway here.