Well, what's one more meme for me to do? With this meme, I just may learn something. My Hubby got me a Nikon CoolPix for Christmas so that I have a digital camera that will fit into my purse, so that I always have a camera with me. So, with that, I decided to take part in the
Bloggography Challenges
, over at
Manic Mother.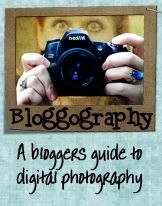 This weeks theme is Winter-themed, which means you need to take a picture in any mode besides full auto. I am not sure it I am doing this correctly, I did not use the auto mode. I did, however use the:
Beach/Snow mode:

Captures the brightness of such subjects snowfields, beaches, or sunlit expanses of water. The camera focuses on subject in center of the frame.
Like I said, I am not sure if I am doing this right, but I will find out shortly I am sure. I can't decide if the Beach/Snow scene is considered a full auto mode, or if she wants us to use different program modes. If she wants us to use the program modes, then I will have to use my other digital camera.

Anyway, this picture that I took is from last week when we were getting a good snowfall and I decided that I needed to go to an Amish Bent & Dent grocery store for some goodies.