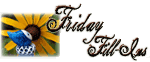 1. Welcome __to my blog and enter some of those giveaways over on your right while you are here___.
2. __If it were to ever happen, winning the lottery___ and __paying off my debt___ makes me jump for joy.
3. There's a __daycare kiddo that should be sleeping and isn't and it keeping the others awake, uggg___!
4. __Everything___ is the thing I love most about __Hubby___.
5. Eyes __Wide Shut just never made much since to me, so I guess I should watch the movie some time to see what the heck it means___.
6. __A maid and a Chef___ is what I'm eagerly awaiting.
7. And as for the weekend, tonight I'm looking forward to __sitting at home but I have errands that I must do instead___, tomorrow my plans include __going out with my man tonight___ and Sunday, I want to __relax and watch some Nascar___!
What is Aloha Friday, you ask? Well over at Island Life, Kailani is from Hawaii and on Friday's they seem to take is easy. Lucky them right? Well anyway, she started a meme in where you ask one question and then give your answer, then other people with answer your question. You can then do some blog hopping to see other peoples questions and then give them your answer to their questions. It's a lot of fun and I hope you can join in and link up

HERE

to do so!
Where is your favorite vacation spot for just you and your spouse?
How it Works

• On the linky below, enter your name and what you are linking to. For example, Posh-GFC, Mel-Twitter
• If you have more than one page to link to, go ahead and post them all separately.
• Linking to a giveaway post specifically is viewed as spam, and as such, will be deleted just as spam will. For your convenience, there is a giveaway linky below the hop linky
• Under 100 GFC Followers? Under 200 Twitter? Under 200 Facebook Page likes? Under 50 in your circle? Please add "low" next to your name so we know to help you out!
• YES, you can link to your hop. You may want to add "linky" next to it.
• Make a goal to visit 5 others, like/friend them, and then leave a comment telling them hello.
***TIP: Blogger Users- The changes to the blogger word verification has made it difficult for others to post comments. Turn off your word verification and you'll most likely get more comments! ***
Thanks for joining us!