Took the kiddos outside this morning in the beautiful sunshine and let them play in the.........mud......while I did some pooper scoopin'. I sure am glad that I told my daycare parents to send the kiddos in old shoes because my yard is always a muddy mess (I even included it in a Parent letter), so know I won't feel so bad about the white Reebok's and Adidas that are covered with mud. I can only do so much.
Now I know that my Princess Sophie had scarfed down some of Jr's money he left laying on the end table but at the time it was a five. Well, with all the rain we have had I found part of a freakin' twenty!!!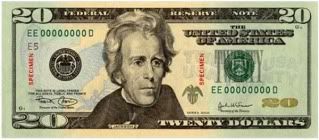 Twenty freakin' dollars out in the back yard in dog crap! And of course it had to be laying right there so that the corner of the bill with the 20 was staring me right in the face. Talk about being p*ssed off! I knew that Jr had found a twenty laying on the floor one night that had been in my purse but I didn't know that that d@mn Princess had eaten one!
The cat steals my gum out of my purse and the dog steals my money. WTH??? What next?
Shadow will probably be driving my Trailblazer to the Bent & Dent to get
him some more green beans. Uggg! The story of my life!