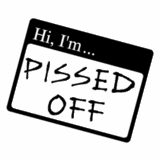 Image By
carlapryor
We applied for health insurance online and we found out today that we were turned down. Why? Because of our weight! You just don't realize how pissed off over this that I am. Does this mean I can qualify for the medical card? NOT!! I guess we just bend over and take it!

Sorry if I have offended anyone but I am seriously pissed!


I am self-employed and Hubby is laid off so we tried to get it on our own. HaHa!!