I have decided to be a little selfish and I am taking Thursday, Friday (Holiday), Saturday and Sunday off of work. I have a few parents upset with me but here is how I figure it: Live a day in my shoes then you can tell me how to live my life, until then SHUT-UP and deal with it.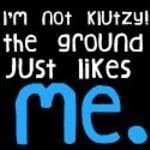 image
By
kayler_94
And, what a better way to start my 4 days of in a row than to carry something down into the basement without using all the stairs. I guess I thought I would try something new, which actually is not new, and I can tell you that it is no fun. But hey, a few bruises and strawberries later, I am still alive and kicking.

It's a good thing I didn't break anything because I have a list of stuff to get done during my 4 days off. Here is what I must accomplish (in no particular order):


Clean carpets in daycare room.

completed 12-30



Spend New Years Eve with the grandparents at their assisted living New Years Eve party.

completed, I will have pics in a few days



Finish out New Years Eve with the Hubby's family.

completed



Spend New Years Day at my parents house.

completed



Clean our bedroom.
Wash all the throw rugs in the house.

completed 12-30



Give all 3 dogs a bath.

Two down, one to go. 1-3



Clean carpet in Livingroom.

Hubby completed 1-3, Thanks!!



Go grocery shopping.
Put shrink to fit plastic on Livingroom window when tree is down.

Completed 1-3



Complain about Christmas tree until it is taken down by our DD.

threatened to put it out with trash 12-30

Got mad and took it down myself! 1-3



Sleep

slept in on 12-30

completed



Finish the book I am on so I can start Twilight.
Relax
So, do you think I will get it all done, with bruises, soreness and all?