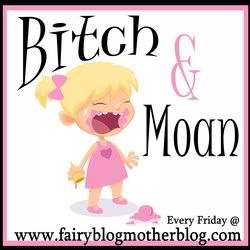 Okay, it's the
weekly Bitch and Moan
section, brought to you by Annette over at
Fairy Blog Mother
. It's all her fault that I am bitching and moaning. No, not really but she does give me the excuse to get it off my chest, which is the second reason why I started this blog.
My biggest bitch this week is the fact that we got turned down for health insurance because we are overweight. Not because we are sickly but because we are overweight. WTF?? I am so angry about this that I could scream and pull all my hair out but then the daycare kiddos would think "Ah, who made her mad this time?"
Another things that's been brewing in me is this whole Christmas thing. Why? Why can't we just spend time together with family and friends and be thankful for what we have? I know, that is Thanksgiving. Christmas is so commericalized that is makes me sick. Everything is about the all mighty dollar, which I do not have. There was a time when I could get the gifts that I HAVE to buy then I could get the gifts for the people that I WANT to buy for. Not this year and I am hating it all the more. There are people out there that I would love to be able to give a gift to and I can't freaking afford it. This I must say is totally asinine (yep, I had to visit Merriam Webster to learn how to spell that). This year is totally going to suck and I am not even sure why I am even trying to pretend to enjoy it.
I have one daycare parent that has totally pissed me off. She owes me money, and I don't mean $50. I think she has just lost it. She stopped picking her kid up when she was supposed to and now she is not paying me the money she owes me. Now, she "says" that her kid is at their dad's. We will see? I am sure that she is upset with me because the day that she was 3 hours late picking up her kid, I texted her and asked her "Are you freaking walking to my house?"
That brings me to my next bitch. Why is it okay for some people to lose their freaking minds but it is not okay for me to do it. Why do I have to be the responsible one? Why do I have to do the responsible adult things? Why can't I just do what ever I feel like? Why me? What did I do to deserve to have to be only one who can't just say screw it, I am going to do what ever I want to do and when I want to do it? Why? Why? Why? Sometimes I really hate being an adult. Oh, to be a kid again!
There are other things I need to get off my chest but just can't do it here. Why? Because everything I say here goes to my facebook and I don't know how to get it off there. Grrr!
Calgon take me away!!
You can play along and visit other peoples Bitch and Moans over at
Fairy Blog Mother
.