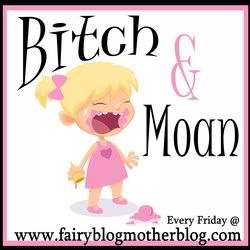 My oven
quit working 2 weeks ago tomorrow. Has it been looked at? NO! Is he planning on looking at it? Who knows! I guess he will when he wants something baked in it.


The Daycare kiddos parents
were all late picking up their kids today and I finally had plans to to something. I had plans to play cards with the Aunties.
The IDIOT
who hit my daughter's cars insurance company totally made me blow a gasket today because they said we could not get any repairs done to our car before they came and did an estimate on it or they would not pay for any work already completed. Did they offer a rental car? NO! So what are we supposed to do for her a car until they get off their butts? So are they paying for the repairs to our Durango or not? They won't know till they see it. WTF??
One of the Daycare kiddos brothers has H1N1?

I certainly hope that no one else gets it. I am already sick and don't have time for it.
My Sinus Infection

has now taken up residence in my chest and I am NOT liking it! I have a Making Strides for Breast Cancer walk on Sunday and I really want to do it!! As a matter of fact I am doing it sick or not! I may end up more sick but it's all about the cause.